Great Eco-friendly Gift Ideas for Your Family and Friends
1 Comment
4 December 2019 |
Admin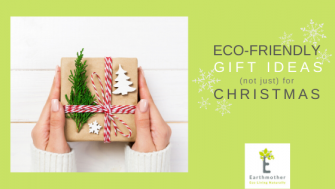 Christmas is a time that is best spent with the people we love. It is also a time of love, appreciation, gratitude, and giving. However, the latter can sometimes be quite challenging. Finding a meaningful gift for friends and family is not always an easy task, especially, if you are looking for a present that is useful, will be cherished for a long time and has a low impact on our environment.
To help you spend less time looking for gifts and instead spend more time in the company of the people who matter most to you, we have selected our favourite eco-friendly gifts (not just) for Christmas!
Eco-friendly Gifts for Her:
1. Handmade Soap Company Gift Box
Giving someone special the opportunity to take some time out for themselves in order to nourish their body and soul is probably one of the best gifts ever. With the gift boxes from the Handmade Soap Company you can do just that!
Whether you are looking at the Hand Cream Gift Set which includes three different blends of nourishing hand creams or the "Because You're Amazing" Gift Set that is full of pamper goodies – all products are natural and sustainable. The high-quality handmade soaps, lotions and creams are heavenly for all different skin types and with their lovely natural smells, they are simply good for the soul.
Made in Ireland from natural and ethically sourced ingredients and with packaging made from recyclable material, the gifts from the Handmade Soap Company will make our planet smile this Christmas.
2. Insulated Klean Kanteen Reusable Coffee Cup
Reusable Coffee Cups have grown in popularity over the last few years and with the government introducing a so-called Latte Levy of up to 25 cents on disposable coffee cups, the reusable option will even save money in the future!
The cups and bottles in the Klean Kanteen Range don't just look good. They are made from high quality 18/8 food-grade stainless steel and with the right care they will last a lifetime. What's more though, the TK Wide Cup is insulated and 100% leak proof. This means, coffee, tea or even soups will stay warm for up to 14 hours, while iced drinks will keep cool for up to 47 hours and all without leaking!
3. Eco-friendly Gift Hamper for Her
If you don't quite know what to get or can't decide, one of our specially created Christmas Hampers might be just what you are looking for.
Choose between our popular Festive Hamper including some handmade soap, shower gel and other natural and organic low-waste toiletries with some delicious Christmassy scents or the Earthmother Gift Hampers for Her which are available in two different sizes. Any eco-conscious woman in your life will love the selection of natural and reusable products included in this gift set. Our hampers are packaged in recyclable gift boxes, ready to be opened on Christmas Morning.

Eco-friendly Gifts for Him
1. Natural Beard Care
Since beards have made a huge comeback in recent years, beard care products have become very popular and well-received presents. This year opt for natural grooming products to make the bearded men in your life and the environment happy this Christmas!
The Hawkins and Brimble range has everything that is needed to let facial hair shine. From specifically formulated Beard Shampoo and nourishing Oil</a> all the way through to conditioning Beard Balm for perfectly shaped beards and moustaches.
Hawkins and Brimble also cater for men who prefer to shave. Their Barber Grade Shaving Brush in combination with the moisturising Shaving Cream makes for a close and smooth finish!
All Hawkins and Brimble products are packaged mainly in glass bottles and reusable tins – the perfect present for any bearded ecowarrior!
2. Collapsible Coffee Cup
In need of a gift for a coffee or tea addict who is always on the go? A reusable coffee cup might be just the thing!
The Stojo Cup is not just like any other reusable BPA-free coffee cup made from recycled food-grade silicone – it is also collapsible! This means if the cup is not used it folds up very neatly to fit into any bag or pocket making it easier than ever to always have a reusable coffee cup at hand, when in the mood for a cuppa!

3. Eco-friendly Starter Set
Christmas is not just a time for giving but also for inspiring others with love and kindness. With our Eco-friendly Starter Set you can do both at the same time!
This gift set includes a mix of carefully selected products to inspire change. With a pack of beeswax wraps and two different reusable snack bags it will be easy to ditch the single use plastic when out and about. In addition to that your gift also includes reusable produce bags and a wooden dishwashing brush to make their household more sustainable all year round!
Eco-friendly Gifts for Children & Babys:
1. Eco-friendly Gift Hamper for Little Ecowarriors
Children are our future and to ensure they grow up conscious of their impact on the environment and the lives of others it is important to make a sustainable lifestyle their normal! With our Gift Hampers, you can show them that even Santa is on board when it comes to sustainability!
Choose between two different Gift Sets for Little Ecowarriors – one with traditionally more girly colours and designs and one with a more boyish approach. These hampers are aimed at children from 2 years on and include a reusable bottle from Klean Kanteen, a reusable sandwich wrap, a Humble Brush toothbrush made from bamboo and a tub of natural toothpaste!
The Future Changemaker gift hamper includes some amazing eco-friendly products for older kids, teenagers as well as young adults. The Stojo cup, stasher bag as well as a tin of Pit Putty deodorant, bamboo toothbrush, shampoo bar, and wooden ballpoint pen will be well received by young revolutionists!
If you know someone with a newborn baby, our Baby Eco Box is not just the perfect Christmas present but would also be perfect as a baby shower or newborn gift. The soft wooden baby brush and the gentle palm-free shampoo bar will nourish and moisturise baby's scalp while being equally gentle to the planet. The gift set also includes a teething necklace, which won't just bring relief for teething little ones but also look stylish around mum's neck.
Eco-Friendly Gift Giving Made Easy
Giving meaningful and sustainable gifts for Christmas doesn't have to be stressful or expensive. With so many different options we are sure you will find the perfect gift for your loved ones without overstretching your budget.
If you would like to give a sustainable gift this Christmas, but you are still unsure what to get or can't make up your mind – you could always opt for an Earthmother Gift Voucher. They are available from just €25 and can be posted straight to the recipient with a message from you. For any last-minute gifts you can even make it an eVoucher which is emailed to you within a few minutes.
Whatever you decide to place underneath your Christmas tree this year, we hope you will have a very Merry Christmas and enjoy the time with your family and friends this season!