Wednesday, 2 October 2019 | Admin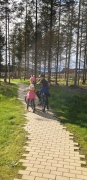 Earlier in the year, we weren't sure if we'd get a family holiday away this year so we decided to treat ourselves to a Center Parcs Ireland weekend in September when the crazy summer holiday prices came down. So we headed off for the Friday to Monday package with no idea of what to expect.
It turns out were very pleasantly surprised at how eco-friendly our little holiday was so I thought I'd share a few tips on what to expect and how you can best enjoy an eco-holiday there too!