Happy Customers
When you shop at Earthmother.ie, we promise that you will get the best service possible and a fantastic range of products at non-inflated prices.
But don't listen to us, we would say that, here is what some of our customers have to say:
I have to say Earthmother was a life saver for me over the past few months. I became a regular customer due to the amazing benefits of the product go lacta. You have been a pleasure to deal with and add a lovely personal touch to your service. I usually received my product within 2 days of ordering which was super convenient. Any dealings I had with staff were very positive, all extremely helpful and polite. I will definitely be recommending Earthmother to other mums in the future. Well done and Happy Christmas to you all. Anna Marie, Dec 2019
I absolutely love the products, I love how quick they arrive and love that they are eco friendly. I had an issue this week with a product breaking and the customer service was probably the best I have ever dealt with. Love this company and recommend it all the time! Alex, Sep 2019

"Dear Earth Mother, Thank you so much for your email. I look forward to shopping with you again in the future. Thank you for making it easier for people like me to make more conscious green choices. Kindest regards" Jen, Sep 2019

I got my delivery of a keep cup and ecoffee cup yesterday. At work, even the smallest items are delivered wrapped in tonnes of plastic and it drives me crazy when we are all aware how destructive plastic is. So to get my cups delivered in a repurposed cardboard box with paper tape and paper filling as protection was magic. To top it off, to get a hand written note was so thoughtful and uplifting. Sometimes it feels like small changes won't make a difference to our beautiful planet and then I get heartwarming messages like yours. You have an amazing company and I'll definitely purchase more from you again. Thank you! Grace, June 2019

"Excellent Service" Great products, and very friendly and helpful service, I would highly recommend, Really happy, Many thanks, Jacqui " Jacqui, Apr 2019

To all at Earthmother.ie, Claire in particular.
Thank you so much for your incredible customer service. The delivery service was incredibly fast, something which I was eternally grateful for the first time I ordered from you, as I was in horrendous pain and was ordering shields on my lactation consultants recommendation as well as other bits.
Any time I have ordered since it always comes so quickly with a lovely hand written note which I really appreciate. In this day and age repeat orders are very rarely acknowledged and I do try when possible to support Irish businesses even when shopping online!
So just a short email to commend you on an incredible customer experience and on the products which you stock! The Mamivac shields have saved my breastfeeding journey and I am still getting to feed my now 12 week old beautiful baby boy! Laura, Apr 2019

"Highly recommend" I've found that there is that personal touch when dealing with Earth Mother, they are always very courteous and you always get a hand written note with your delivery, the prices are competitive ,service is quick so I would highly recommend them, as for the wipes they simply are the best out there.
After using other wipes, there is always something not quite right, they are either too rough for babies delicate skin or too much product, water wipes are soft enough for baby but don't tear too easily. They might be that little bit more expensive than other wipes but they are worth it. Norman, Mar 2019


So happy with the very quick next day delivery service. And how items were packed. And I loved the personal note from you on the receipt. Sometimes online shopping can be impersonal and that brought something special and connection to you with my purchase. I look forward to ordering more products from you in the future. Mary Denise, Feb 2019


I was really happy you sent my 2 previous orders in a very conscious and waste free way. Thank you! Elise, Sept 2018


Hi Just want to thank you for fulfilling my orders so promptly. The products are wonderful and it's great to be able to purchase so many Eco products in one place. Prices are very competitive also. Thank you soo much. Jeanne, Sept 18


You have a wonderful website, everything on it that I need at the moment. I don't know how you do it all I've only one little. Keep up the great work and its wonderful to see new products coming on to your site. I really look forward to a peak on it :) Thanks very much. Michelle, Aug 2018


I just wanted to send an email to thank you for all the amazing products. I have ordered twice and I absolutely love every product. I just cannot get enough of this shop and am already looking forward to my next purchases. The personalised note is a very nice touch that many business lack nowadays! Thank you again!!! D, Aug 2018.


Hiya, Just received my Organicup! Thanks a million and nice personal touch signing the card and delivering in recycled cardboard!! I appreciate it :) Aisling, March 18


Thank you for your email and for following up the delivery. Yes I received it this morning and i think already that I will love it!! Thanks again and for the what appears to be fantastic customer service, which is unusual from online retailers. I will absolutely be recommending you and will purchase from your site again. Regards, Eileen, March 18


I have ordered products from you several times.I availed of your superb Black Friday offer and to my delight my parcel arrived today. I wanted to email to Thank you for providing such an excellent service, I am so glad that I happened across your exemplary online shop of beautiful, yet functional and practical products which have helped me greatly on my new journey into motherhood. With very best wishes. Maeve, Nov 17.


Hi Siobhan, Thanks so much for your personal message when you sent across the weleda cream, it was so nice. I love your website and the products on it and recommend it to many moms! :) Good luck and hope to continue getting lovely products from you! Best regards, Gayle, June 16


Hello Siobhan, Just got the envelope! Yay!!! Thanks so much for the adorable wipes! I'll definitely will shop with you again soon. Warmest regards, Luciana, June 16


Credit where it's due Siobhan - it's too often people criticise only and not acknowledge where due. Your simple follow ups, offers of expediting if stuck and handwritten note on invoice caught my attention! Very pleasant. I knew I was being looked after and my my custom was valued also. Janice, May 16

Thank you so much, have already received my order this morning & I absolutely love the lambskin, it's beautiful. Great website.
Kind Regards, Marie Therese

Just want to say a big thank you for your excellent service and speedy delivery of my order. Ordered placed Monday and received Tuesday, can't get much better than that!
Mary,

Hi Siobhan! Received Eve's babiators today, sooooo cute! Thanks for a great service.
Sheryl :-)

Hi there, Got my items today and I am delighted with it. Thanks so much for the amazing service.
All the best, Willemein. June 14

Thanks so much for the demo roll of nappy liners you sent us to get us out of a spot!! That was really good of you. You are such a fantastic company to deal with all the way along...I shall continue to recommend you.
Lorraine :) June 14

Thank you so much for your help, I'll definitely be using your shop again, great product and fantastic service.
Kiren, May 14

You're welcome, love your website keep up to good work! You're welcome, love your website keep up to good work!
Katja, May 14

Thank you again. I told you this before but I'm telling you again, Earth mother provide the best customer services ever!
Cathy, May 14

Just a quick thank you for my last order. Fast and great service again!! Little Lily smells divine after her baths with Weleda calendula wash, great to get in on offer too.
Kati, April 14

Many thanks for my order last week - impeccable service as always !!
Sally-Anne, April 14

Was telling a friend the other day how much I love your shop and how personal you make the shopping experience at times. I'm so glad I checked my receipt this morning and found this lovely message on it. Thank you very much you are so much more than an online shop for mothers!!:)))' Dora, Dublin 15

Hi Siobhan. I am loving the Babiators, we had great fun trying them out today! Your website is brilliant, we will be purchasing again for sure.
Kind regards, Karena

Dear Siobhan! Thank you so much for such a great and personal customer service. My package came in a great condition and on time (really quick). Thanks and all the best!
Galina, Canada.

Just want to say everything arrived as hoped and is now being put to use. Thanks for the prompt reply and service as ever. I have to say I really miss being able to shop with you since we moved here. Hope business continues to flourish for you in the future.
All the best, Fiona

Got my vests this morning, super quick service!! Thanks a million. Angie

Thanks for a response! I also want to wish you Merry Christmas and the very best new year. Keep up the good work, your store is amazing :)
Giedre, Dec 2013

Hi Siobhan, It's always a pleasure to shop on your website and to be able to buy really great products for my most precious baby girl.
All the best, Kristina

Thank you very much for keeping me informed, I greatly appreciate it. I will definitely shop with you again and will pass the word on for an amazing customer service you provided.
Thank you. Elena, Sept 13

I love your site!!! I wish i lived closer.
Thanks. Sabina, Sept 13

Thanks a million for the training pants, they arrives today. They were for a friend, who I've converted to cloth!!!! She was very impressed with your service considering we ordered in my house at 4pm yesterday and they were in her bands at 11 am this morning. !! Wonderful service, wonderful product, wonderful price.
Thank you. Mia, Wexford, Sept 13

'Hi Siobhan, I received the wrap yesterday and the water wipes which were very kind of you to send! Many thanks for keeping me posted, great customer service. Best wishes, Sarah' Sept 13

'I just wanted to say that I placed my first order with earthmother.ie a couple of days ago and couldn't be more impressed with the level of customer service and speedy correspondence from the lovely Siobhan!! I'm very impressed and delighted with the service. We are often so quick to complain about bad service and not so fast with our praise!
Thanks again' Niamh Foy, Sept 13

"I have to say I'm quite impressed with your customer service, after dealing with lots of online retailers you stand out, your range is lovely too."
Anna, Dublin 15

"I love the products that you have on earthmother.ie and most importantly the prices are reasonable too. I thought that I would have to look to a UK or EU website to buy organic products."
Bridget, Celbridge

"Really appreciate your help with this – it is great to have the efficiency, simplicity and convenience of an online store as well as the personal assistance when required. Thank you."
Claire, Bantry

"Hi there, I just wanted to say thank you for amazing service. I put in an order yesterday morning for water wipes, nappy balm and nappy liners and a very cheerful lady arrived on my doorstep with a box in the afternoon. Wow! I really appreciate the products and information on the Earthmother site - I'm from America originally and have found it hard to find all the natural products over here (until now!) I've told all my friends. Keep up the good work!"
Summer, Dublin

"Firstly, I just wanted to thank you for the prompt and friendly service. I ordered from your website for the first time on Wednesday and received my order this morning. I am very happy with the quality of the products."
Rachel, Dublin

"Thank you once again for everything, especially for the great service and kind & patient approach! I think, this is one of the things that all customer always highly appreciate! I have already recommended Earth Mother to another pregnant colleague of mine and I have ensured her, that not only she'll get a great quality products but also caring and high quality service ;-)"
Jana, Blanchardstown

I just wanted to send you a quick email to say how impressed I am with your customer service! Thank you so much for replacing the boxes of nappy liners with the rolls it was completely unexpected and I really appreciate it. This has help to cement the fact that I will definitely be a returning customer to earthmother.ie, you couldn't ask for a better service!
Thanks again, Sheena Keegan.

Just wanted to say many thanks. I placed an order with you on Tuesday and it arrived yesterday. Great service and so far I am very happy with the quality of the products I purchased.
Laura, Dublin.

I just want to thank you for my order, I am delighted with the products and the fast delivery. The amber necklace actually arrived first thing this morning before the rest of stuff ! Thank you again.
Kind regards, Kristina

Hi there,We received the beads this morning and we just want to say thank you so much for the incredible service.
Kind Regards, Marie

Hey!! Just got my delivery today and only put my order in yesterday!! Thanks a mill! Great shop and will defo use you again!
Katie

Thanks a million. I am really impressed by the service you give! Being a new parent who just had a c section and is not very mobile yet, I really appreciate the ease and efficiency in which I can get all I need with earth mother
Fiona, Dublin 3

Hi Chris, Thank you so so much for that I really appreciate it!! I must say your website is a pleasure to use and shop on so well laid out, I will certainly be using it again and recommending it! :)
Kind regards, Elaine



My order arrived first thing this morning, delighted with my purchases, and the super fast delivery! Thank you for your personal message too, my babies due in a few weeks so I have some time to practice woth my new gorgeous moby wrap! and I will be stocking up on lots more items I'm sure!

I just got an order from you recently and I wanted to let you know that I am thrilled with my purchases and the products are really good quality. My little boy loves the wipes too, they are the only ones now that he allows me to wipe his face. Thanks. I will definitely be using this website to order more products and I will tell my sister and friends that are expecting new babies this year.
Mary, Thurles
Monday, 20 January 2020 | Admin
By Amy, The Nappy Camper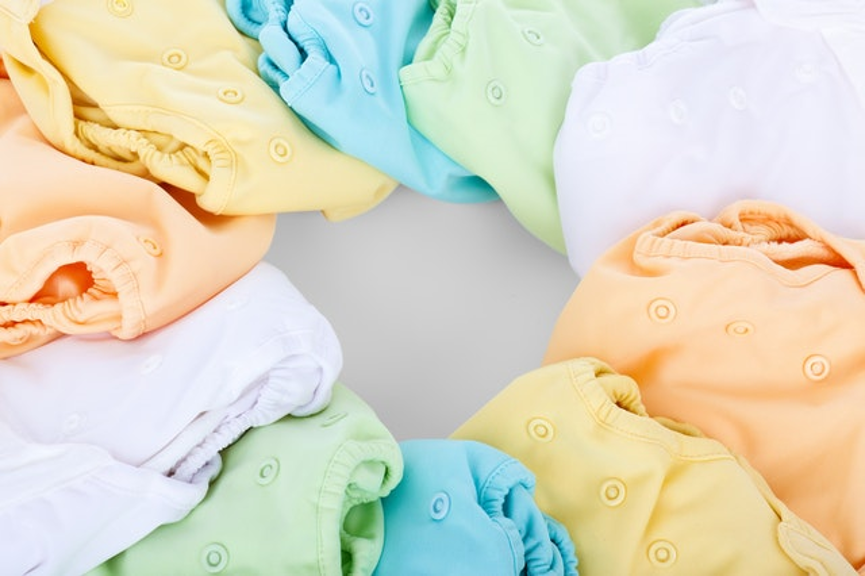 If you have been thinking about using cloth nappies and have some concerns over the cost, environment, work involved etc then this is the post for you. I'm myth busting to help put your mind at ease. Here are 7 of the many thoughts I had before I used cloth nappies and also some arguments and facts to relate back to the "concerns" your family/friends/colleagues or even strangers might have too. Let's face it, people still think of a terry square soaking in a bucket of Napisan after being boiled on the stove when you tell them you're thinking of using cloth. I just want to take this opportunity to shout from the rooftops.. "IT'S NOT LIKE THAT ANY MORE!!"Phew! What a load off!