Latte Levy Lowdown – Everything to Know About the New Tax and How to Avoid It!
18 November 2019 | Admin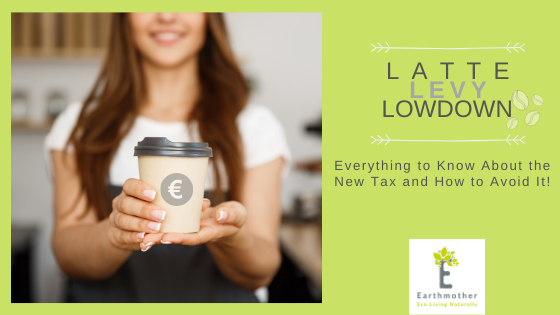 The government has announced the introduction of a so-called latte levy in a bid to fight climate change in Ireland. The tax is supposed to be coming into effect by 2021 and will up the price of take-away coffees and teas in disposable cups. We have the lowdown on this new levy for you as well as our favourite reusable cups which will help you to avoid the tax without ditching the take-away caffeine!
View all our coffe cup range here.
Latte Levy: Why, What & When:
22,000 disposable coffee cups are thrown away every single hour in Ireland. Let that sink in for a minute...
Over the course of a year, this adds up to the mind-boggling figure of 200 million! The majority of this literal mountain of disposable cups is not recyclable or compostable, which means it will end up in landfill. From there, the plastic in the lids as well as in the polyethylene coating on the inside of the cups will pollute the planet infinitely.
It is time for change to reduce this number so we are delighted the government are taking this initiative. However, as a generation, we have grown incredibly used to the fact that we can have anything and everything fast and on the go – coffee and tea are no exceptions. Instead of trying to backtrack this habit of our fast-paced society, the introduction of the latte levy is trying to influence a behavioural change around this habit by motivating people to bring their own reusable cups for their take away coffee.
To achieve that the government has announced that coffees and teas will be charged with a levy of up to 25 cents when bought in a disposable cup. By the end of 2021 coffee shop owners will have to display two prices for all of the beverages on offer. One price for just the drink, which will be filled in a BYO cup and a second price that will include the levy for the disposable cup. According to research, this levy alone could divert as many as 70,000 disposable cups from landfill!
Further plans for the coming years to tackle pollution in Ireland include an increased plastic bag levy, a tax on take-away containers for food as well as a surcharge for retail food packaging (eg baked goods, fruit, vegetables and so on).
It is official: Reusable cups, bottles, bags, and containers are not just good for the planet but will actually save you money. In order to gear up for the latte levy, we have selected some of our favourite reusable coffee cups below.
Best Reusable Coffee Cups to Save Money and Avoid the Latte Levy:
1. Stojo – The Collapsible Cup
The collapsible Stojo cups are a genius invention. They are made from recycled, BPA free food grade silicone. The very nature of this material is flexibility, so while you are not using your cup it can be folded into a two-inch disc that will fit in any bag or even pocket!
Reusable Stojo cups are available in two different sizes. A smaller 12oz version and a bigger 16oz cup that also includes a straw. Both are microwave and dishwasher safe and include a heat sleeve which keeps drinks hot for longer. The Stojo is the perfect cup to keep in your bag for a spontaneous latte on the go!
2. KeepCup – The Classic
KeepCup was the first worldwide manufacturer of reusable coffee cups that met barista standards. Available in four sizes, from Mini (6oz) to Large (16oz), it will always be in line with what your coffee shop offers.
You can choose between the Original KeepCup which is made from recyclable material, the Brew KeepCup made out of glass or the Brew Cork Cup which features a Cork heat sleeve on a glass body. The simple design of the different types means that they are super light and handy to stow in your bag. They are also easy to disassemble and can go in the dishwasher, which makes cleaning them a breeze. KeepCups are the perfect reusable solution to avoid the latte lavy in the office, the car or out and about!
3. Klean Kanteen TK Wide – The Adventurer
The insulated cups from Klean Kanteen are taking coffee to go to an entirely different level. Made from double-walled 18/8 stainless steel the TK Wide will not just keep hot beverages and even soup hot for up to 11 hours, but also keep cool drinks iced for up to 38 hours as well as being 100% leak-proof! To offer even more value you also have the option of a Straw Cap or a Chug Cap.
The food-grade stainless steel is free from toxins and incredibly durable. If cared for correctly, your Klean Kanteen will accompany you throughout your entire life. The different caps can be unscrewed and cleaned in the top shelf of your dishwasher, while it is recommended to wash the insulated part of the bottle by hand. The Klean Kanteen TK Wide is ideal to provide a warming or cooling drink during any type of adventure!
Ditch the Latte Levy and Be Kinder to the Planet!
The clock is ticking and the first phase of government's climate action plan is on the latte levy. Now is the perfect time to get ready to avoid the new tax by investing in a reusable coffee cup. With the different choices of the classic KeepCup, the handy little Stojo cup or the durable and insulated Klean Kanteen TK Wide, you will find the perfect cup to suit your lifestyle and caffeine needs right here.
Top Tips for using your Reusable Cup Out and About:
Always ask if there is a discount for using your cup, it keep it front of mind for cafe owners even if they don't yet.
Check out The Concious Cup campaign for a list of cafe's that curently offer a discount on a reusable cup.
Try to remember to wash your cup at home so you're bringing it out clean for the next cuppa, but if you're caught on the hop, you can always ask the staff to give it a quick wash for you. Or clean it with a little bit of tissue. Or go to an Applegreen who have really handy washing sinks beside the coffee machines.
Always keep your cup where you will remember it - I have one always in the car and another always in my bag so I'm rarely stuck. But I have to remember kids hot chocolate ones before we go to the park so add it to your mental list after keys, phone, wallet :)
What's your favourite? Any other tips for using your reusable cup in a cafe?