All You Need To Know About Yumbox Bento Lunchboxes
7 August 2022 | Admin
Yumbox Bento lunchboxes have been one of our bestsellers at back to school time for many years now, and with good reason. Some of our long term customers have been using the same Yumbox for over 7 years and they're still going strong! They're the most sustainable, durable lunchbox we've ever found - great value for money and good for the environment too.
Apart from their durability, customers also like that they are so easy for small hands to open and close, that they have colourful trays with designs that kids love and that they have healthy eating messages and portion sizes. They fit neatly into any school bag and don't leak so can be left on their sides or even upside down with no messy accidents. Have a look at the reviews on our website to see for yourself!
All Yumboxes are made up of 2 parts, the outer hard plastic box with leakproof silicone seals for each compartment and an easy to open latch, and a separate inner tray that can be easily removed every day for cleaning.

What Size Do I Need?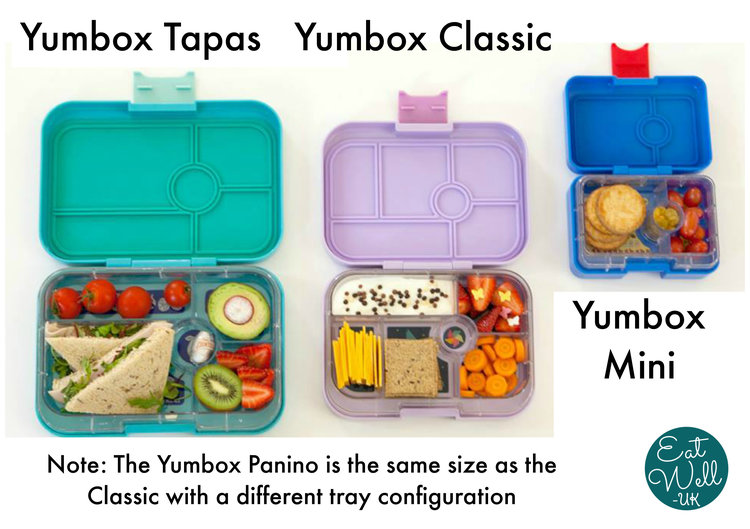 There are 3 main sizes of Yumbox that you can buy depending on what age you are buying for:
Yumbox Tapas: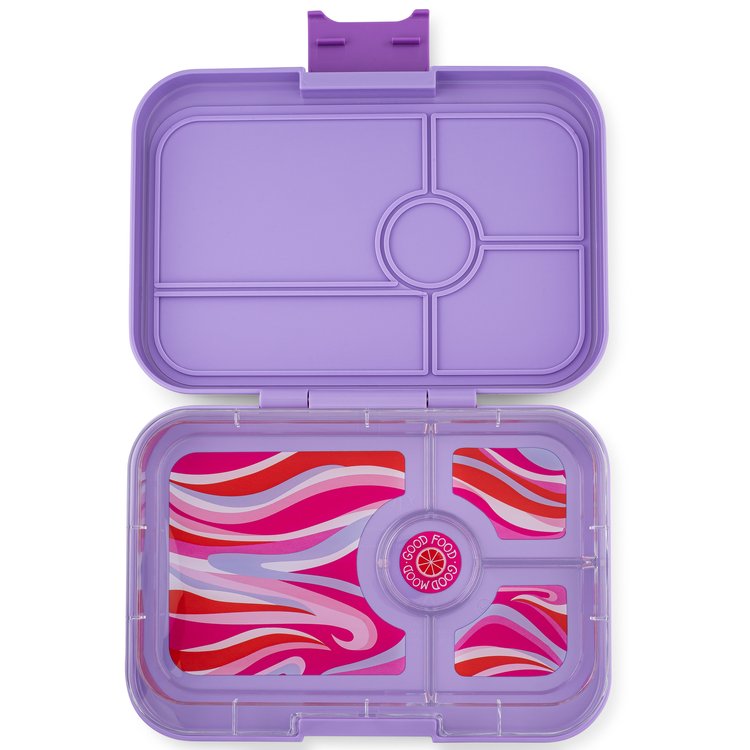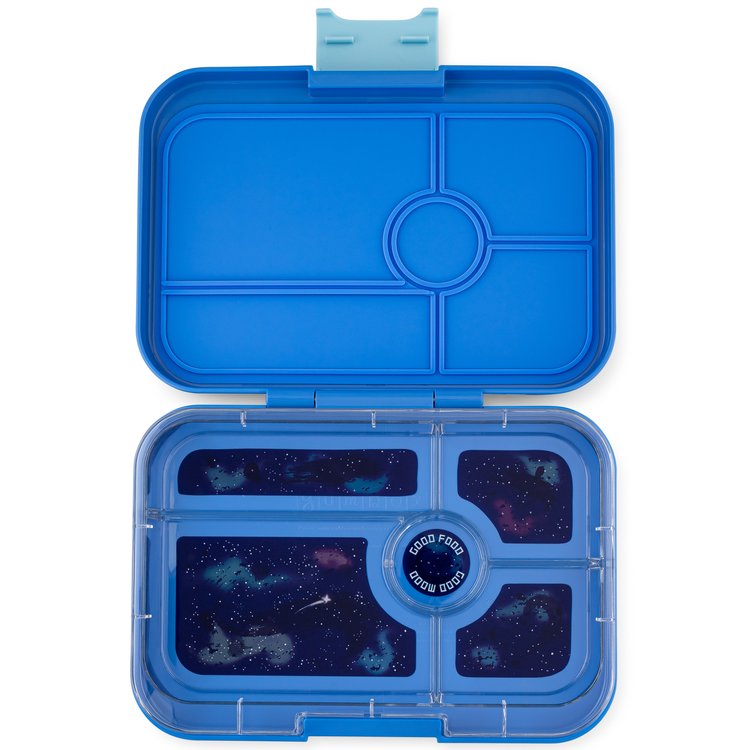 This is the largest Yumbox and works really well for older kids from about 1st/2nd class upwards or for adults. They're slightly heavier than the Classic or Panino and hold a lot more food. You can chose between a 4 or a 5 compartment tray and you can also purchase an extra tray in the other size so you have more flexibility depending on what's for lunch that day. It's also handy to have a spare tray if one is still in the dishwasher etc.

The 4 compartment Tapas has a large compartment that will fit a full slice pan size sandwich or wrap or roll. The 5 compartment option makes that space a little smaller.
Lunch ideas: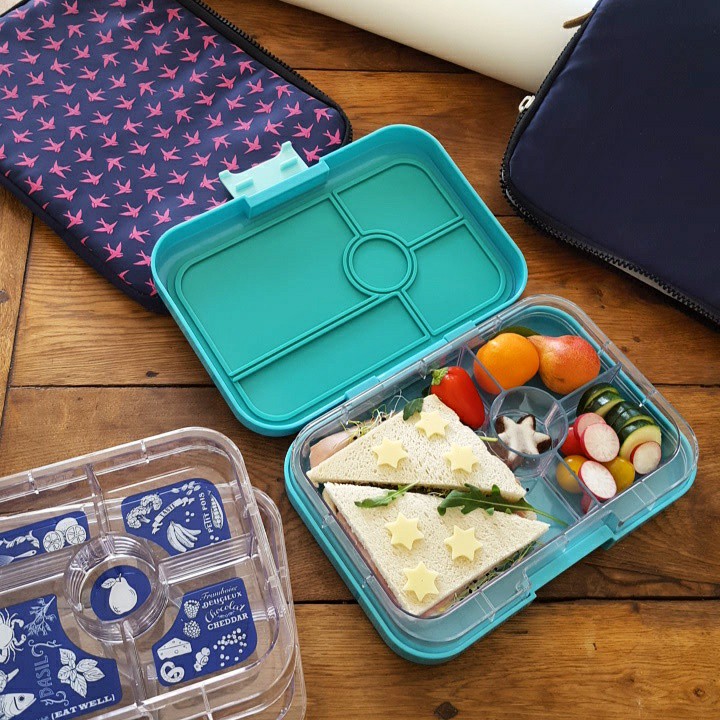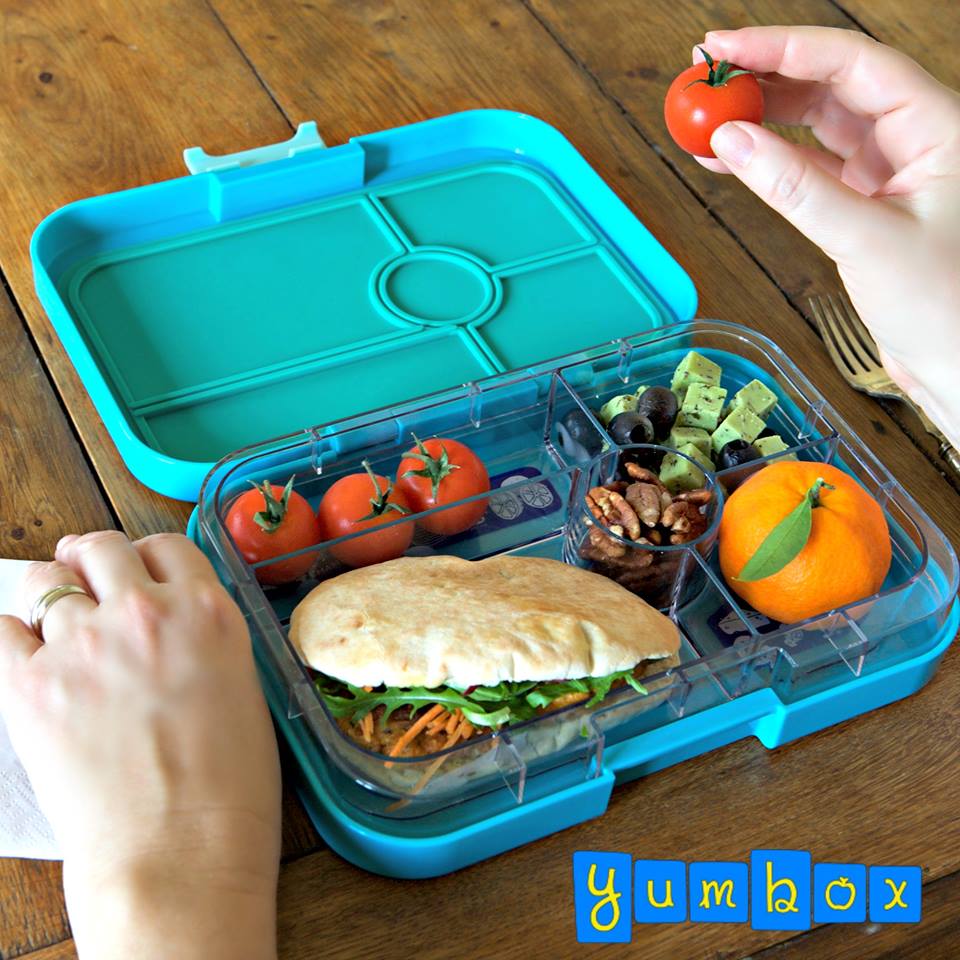 The Tapas is a great lunchbox for older kids and adults alike with loads of options for salads, fruits, hummus, dips, breadsticks, crackers etc as well as full sandwiches in the 4 compartment tray.
Yumbox Classic and Yumbox Panino: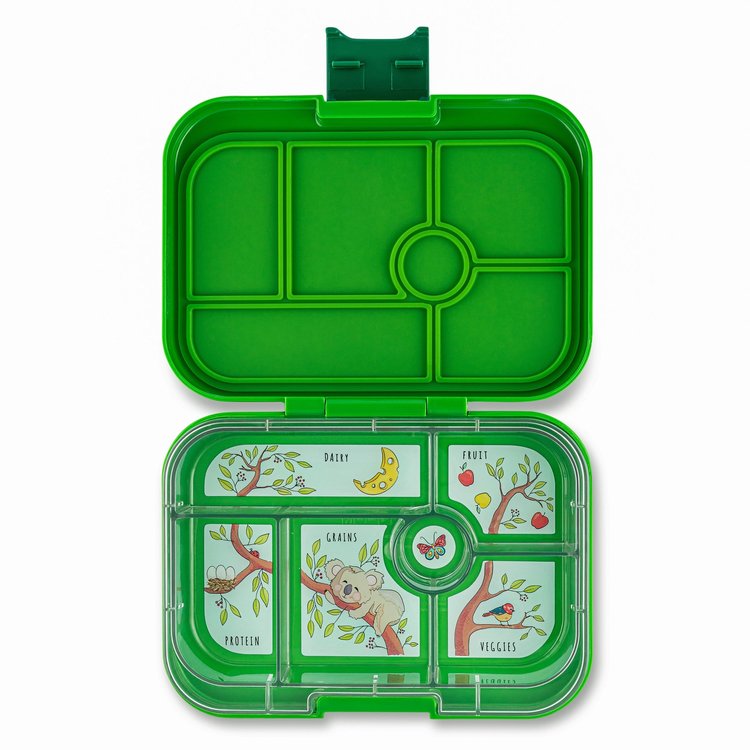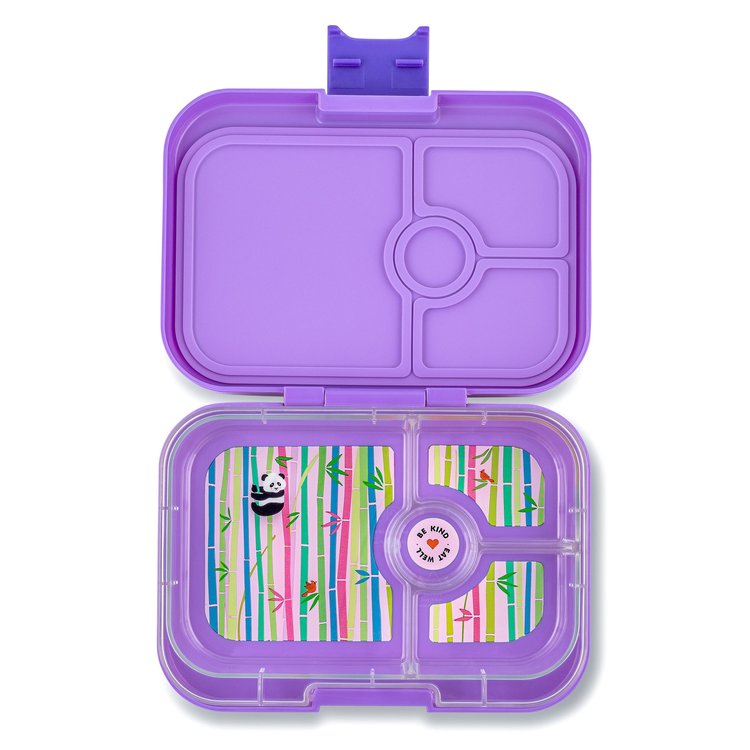 The Classic (with 6 compartments) or Panino (with 4 compartments) are a great option for kids from age 5 starting junior infants (or even for creche but there is a mini that might suit better then).
The Classic is perfect if your child likes lots of little things in the 6 different compartments, the Panino works better if you want to fit in one larger item like a sliced bread sandwich (cut in 2) or a small roll and then 3 smaller items in the other compartments.. Both boxes are the same size, the amount of compartments internally (4 or 6) are the only difference. (Just fyi unfortunately you can't swap inner trays between a 4 and 6 compartment tray as the leakproof seals won't line up).
Lunch ideas: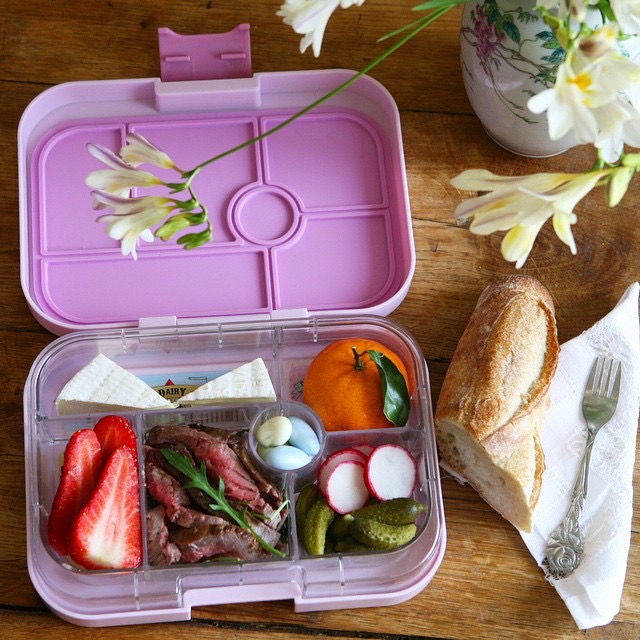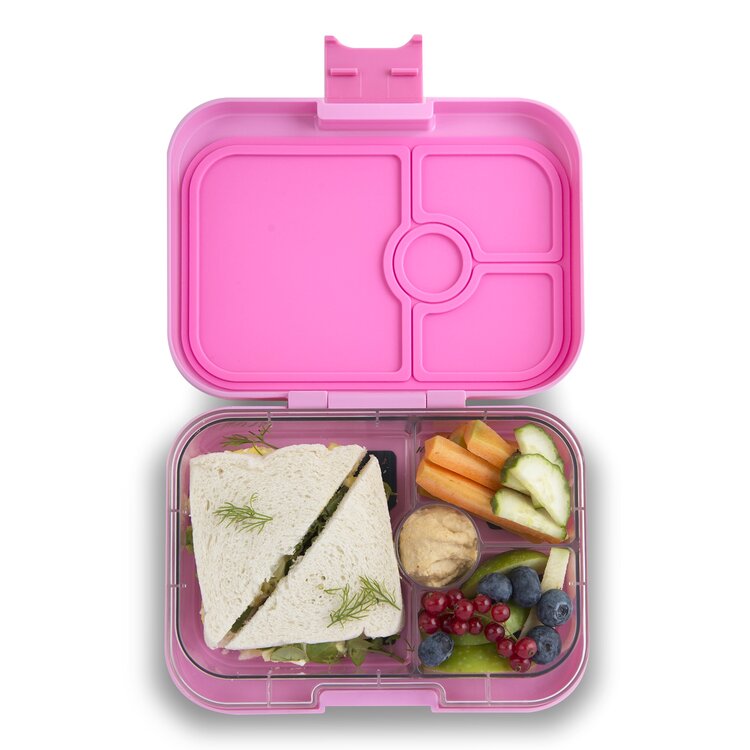 The Classic/Panino are perfect for any of the following: crackers, small sandwiches, wraps or bread rolls/strawberries/apple slices/cherry tomatoes/cucumbers/raisins/ and wet food like yogurt, hummus or dips. They don't fit a full apple or a full sliced pan sandwich.
Yumbox Mini: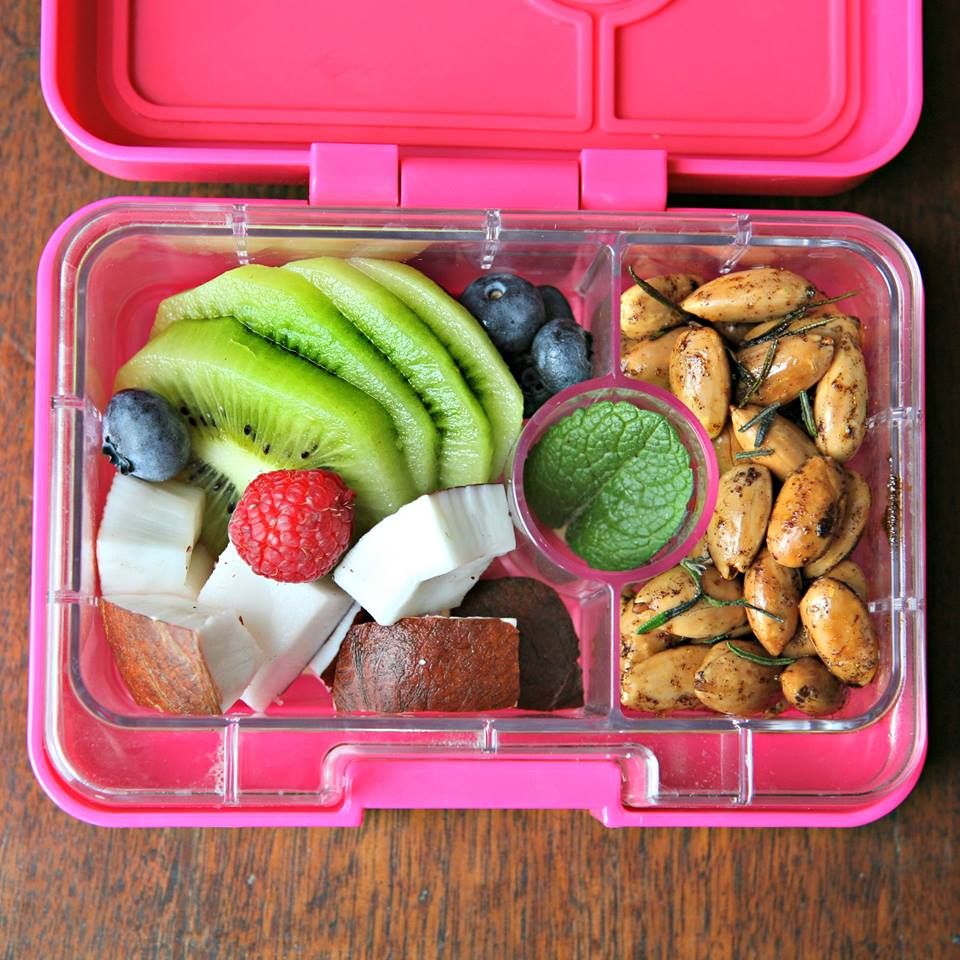 The Yumbox Mini is the smallest lunchbox and works well for creche or preschool snacks or even just for small snacks on the go. It will fit some small items like berries, fruit and some small crackers etc, or even some yogurt and dips. It's ideal from age 2 up to about age 4.
Yumbox Presto: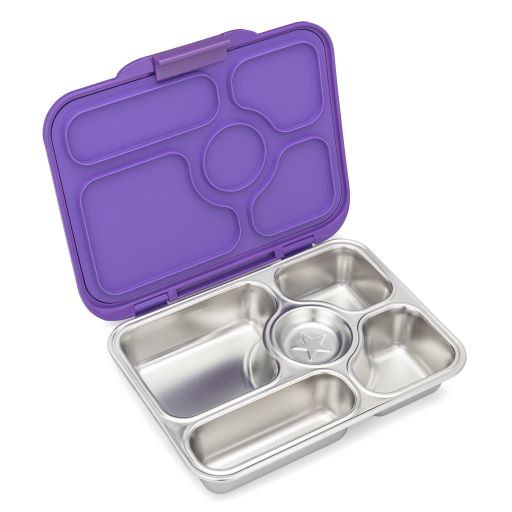 The Yumbox Presto is the latest from the Yumbox range for people who prefer to reduce plastic and go for stainless steel instead. Still with the same easy to open latch and with 5 compartments made from stainless steel.
Frequently Asked Questions About Yumboxes:
Can I fit a whole apple in? - No they aren't a deep luncboxes so are designed for smaller items like orange segments or strawberries or even a cut up apple (add a bit of lemon juice to stop it going brown).

Can I fit a full slice pan sized sandwich in? - You can just about fit one in the Panino size but you can't really in the Classic unless you are very creative with your cutting up. You can fit one easily in the 4 compartment Tapas.
What size should I go for? - As mentioned above, we think the Mini suits age 2+, the Classic or Panino are best for age 5 upwards and the Tapas works best for age 7 upwards.
Can I get an extra tray with a different amount of compartments? - Unfortunately not with the Classic or Panino as the silicone seals don't line up so it could leak or the latch could break, but you can swap the Tapas size between 4 and 5 compartment trays.
Is it possible to get (for example) the powder pink panino lunchbox but swap out the panda tray for a rainbow tray? - Unfortunately not as they come wrapped as a full set. You would have to buy a separate rainbow tray unfortunately.