The Story of Silver Cups and How They've Helped Breastfeeding Mum's in Ireland
2 October 2022 | Admin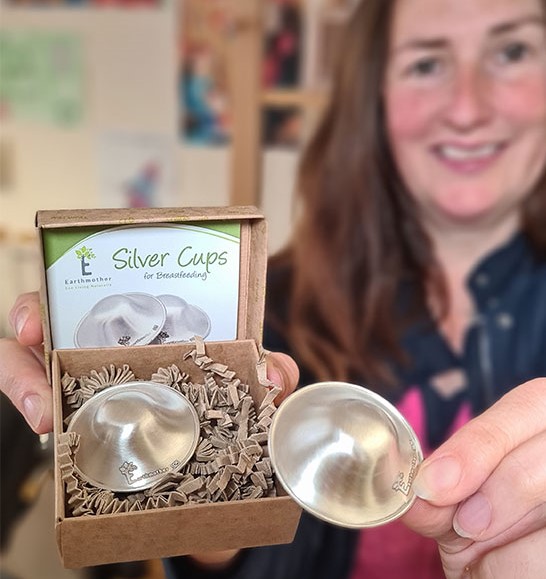 For National Breastfeeding week this year, I thought I'd write the story of one of the things I'm most proud of with our little business - Breastfeeding Silver Cups!
Back in 2012, just a year and a bit after we started Earthmother, a lovely Australian customer called Sophie raved about some silver shields that she had bought back home that had worked amazingly well when she had some breastfeeding issues. She said we had to stock them for the mummies of Ireland.
I always listen to recommendations from our customers as they are the ones researching and hearing about the best products for their families. Especially when we hear about products that help with breastfeeding which is something I am soooo passionate about. It's hard to hear of any new mum who wanted to breastfeed but had to give up because things didn't go to plan and the support wasn't there when she needed it. So a product that helps heal soreness and irritation was exactly what we needed! I had never heard of them before despite already having nursed my two oldest babies thankfully without many issues.
We went about finding out where to get them and made contact with a lovely Irish mum Sarah who lived in London and was distributing Breastangels Silverette Cups to the UK and Ireland. And so one of our most amazing products came to sit on our shelves for the mums and babies of Ireland.
We started getting feedback from new mums who had bought the silver cups from us from saying it 'saved their breastfeeding journey' - I've heard that feedback a hundred times over the years at this stage and it literally brought tears to my eyes the first time I heard it and still does to this day.
To think that something as simple as pure silver placed over the nipple at the first sign of redness or cracking can heal so quickly and painlessly still amazes me - the amazing power of nature to protect and heal, especially at such an important time - it's totally awesome!
So we brought them to baby fairs and lactation consultant conferences and the word began to spread. I've always said they should be given to every mum who wants to breastfeed from the moment they give birth. So I was extremely enthusiastic about letting everyone and anyone know about them! I do think that its because of our promotion of them that they have become the more mainstream product that they are today. Most people have heard of them now, while then most people thought they were like the tassle things Madonna used to wear :)
Unfortunately when Brexit came along, Sarah decided to move on from Breastangels and we decided it was time to source our own instead. So the Earthmother Silver Cups came to be! They are made with the exact same 925 grade silver with the same ergonomic shape that work for all sizes but because we have sourced them directly, we don't pay duties, customs and wholesaler costs, so we can make them even better value for our customers. We've also made sure they're packaged without any plastic and are fully recyclable.
I'm not one to harp on about these things much, but I really am truly proud of our part in making these widely known and available to the mums of Ireland and I am so happy to be helping so many mums continue to feed their babies without pain or irritation, so that they can continue their breastfeeding journey for as long as they want without discomfort or pain. Having had three relatively easy breastfeeding journeys myself, I have so much admiration for mum's who develop breastfeeding issues but get through it with the help of products like silver cups and the right support and care from health services, family and friends. It definitely sometimes takes a village!
Have you used them for your breastfeeding journey? Tell us your story too, I'd love to hear!