My Breastfeeding Journey with my Three Little Nurslings
1 October 2015 | Admin
It's National Breastfeeding Week in Ireland, a week to promote the wonder and joy of breastfeeding. So I thought I would share my own breastfeeding journey with you.
I have 3 children, all happily breastfed from birth to 12 + months. When I had my first baby, I was clueless. If it wasn't for a beautiful, gentle, young Italian midwife who supported me in Holles St during my 5 day stay after a c section, I don't know if I would have taken to it so well. She showed me the best positions to feed in (I liked lying on my side with him facing me best) and reassured me that he was feeding well. Thankfully Conall fed easily from day 1, he'd feed for ages, at least 40 minutes a go and would happily sleep, feed, sleep and feed. Until week 3 when he started screaming constantly and I didn't know what to do – was he hungry, was he windy, was he tired? I was completely overwhelmed and it happened to coincide with my mother and father in law coming to stay with us and seeing way too many flashes of boob for my liking! It was a low point. But I went with it and let him feed all the time and we got through it and back into a bit of a routine within a few days. Looking back it was an obvious growth spurt which I hadn't learnt about yet…there's so much to learn! I never got mastitis or cracked nipples but I did get sore boobs sometimes and I found the best way to deal with that was massaging the lump towards the middle in a hot shower.
I stopped feeding Conall when he was 11 months old because I got pregnant again. At the time I hadn't heard of tandem feeding (when you feed more than one child at the same time) so I didn't realise I could keep feeding - or I probably would have. Cian was such an easy baby, he fed like a lunatic for 5 minutes at a go and then winded easily and was sorted for another few hours. My let down with him was really fast, it's amazing how your body knows how to respond to individual babies needs. I fed him until he was 14 months and I went back to work.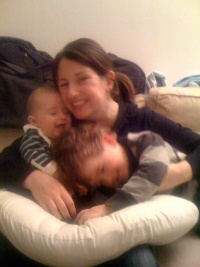 I was really disappointed to find that my daughter Ciara had been given some formula before I got back from the recovery room after my third c-section. They had thought her blood sugars were a bit low so asked my husband could they give her some formula and of course he agreed after hearing worrying news like that. I however had been reading up about virgin gut and how important it was to get the bacteria in breastmilk into their gut (also known as the second brain these days) so that was a bit disappointing for me. But how and ever, she fed happily for the first few weeks and we even managed to keep nursing through a traumatic period when she was 6 weeks old and my mother was suddenly diagnosed with a tumour on her spine and had to have emergency spinal surgery. In fact, having Ciara lie beside me in the bed as she fed and feeling her close against my solar plexus gave me a surreal strength to get through it that I still don't really understand.
I fed Ciara until she was 15 months old. I went for a 4 day break without her and pumped while away to make sure my supply was ok. She fed happily when I got back but a few days later refused, and then refused the next day, and the next and the next. So she made the decision she had had enough. If she hadn't, I'd probably be still feeding her now.

I found breastfeeding to be the most beautiful experience I think I have ever had. I'm so proud to have given my three babies all such a healthy start to life and I am thankful I had the right support at the right time to help me through. I hear so many stories about mums who tried to breastfeed and it didn't work out: 'baby wasn't gaining enough weight', 'it was too sore', 'I had to top him up with formula as he wasn't getting enough from me' are common issues that I think can be resolved with proper support. The problem is there isn't enough of that support available in Ireland. Our health system is too quick to suggest a bottle, aunts and uncles tell us 'would you not just give them a bottle', our friends look slightly aghast if we mention feeding for more than 6 months …'but they have teeth!'. Education and support is sadly lacking so its no wonder there are only 1% of Irish mamas still exclusively breastfeeding at 6 months – even though the World Health Organisation recommend 2 years.
Breastfeeding Support:
But there is help out there, there are some amazing voluntary organisations that have local volunteers, counsellors and experienced mama's who can help:
http://www.cuidiu.com are a national organisation with local networks providing support and advice, meet ups with other parents and lots of social gatherings.
https://www.lalecheleagueireland.com/ are an international organisation with a national network of groups and support from mothers who have received accreditation to give advice and support.
http://www.friendsofbreastfeeding.ie/wp/ have a great breastfeeding buddy system and run a lovely annual baby fair.
https://www.breastfeeding.ie/ is the official HSE website for breastfeeding with lots of useful information and resources.
http://www.alcireland.ie/ the association of Lactation Consultants in Ireland. If you can't get free support from a voluntary organisation, a consultation from a lactation consultant is an amazing investment you can make in your babies wellbeing – and it's not that expensive.
There are also some great books:
The Womanly Art of Breastfeeding is like a bible of breastfeeding so well worth the investment http://www.amazon.co.uk/Womanly-Breastfeeding-Leche-League-International/dp/1905177402
Ina May Gaskin is a legendary midwife, natural birthing and breastfeeding advocate http://www.pinterandmartin.com/ina-mays-guide-to-breastfeeding.html

And groups on facebook:
Extending breastfeeding in Ireland
I'm sure there are plenty more so please share with everyone in the comments.
Thanks for reading about my breastfeeding journey and I hope you have an amazing experience with yours.