Mothers Day Gift Guide - Our top 5 eco-friendly ethical gifts
6 March 2023 | Admin
Top 5 eco friendly and sutainable gifts for mothers day
With Mothers Day coming up, you may be wondering what the best eco friendly and sustainable gifts are for the special mom in your life. Here are our Earthmother top 5 picks!
Earthmother Bouquet of Soaps Gift Box
Don't you just love the wonderful aromas of Palm Free's soaps? Natural, palm oil free - and full of powerful scent notes to help lift your mood. Now you can enjoy their fabulous soap collection in one convenient package with the Earthmother Bouquet of Soaps Gift Box. Featuring six signature soaps crafted from natural ingredients, plus a bonus soap dish and soap bag for the shower, it's your chance to experience the fresh, clean scents of this range of natural soaps without breaking the bank - what a great gift idea!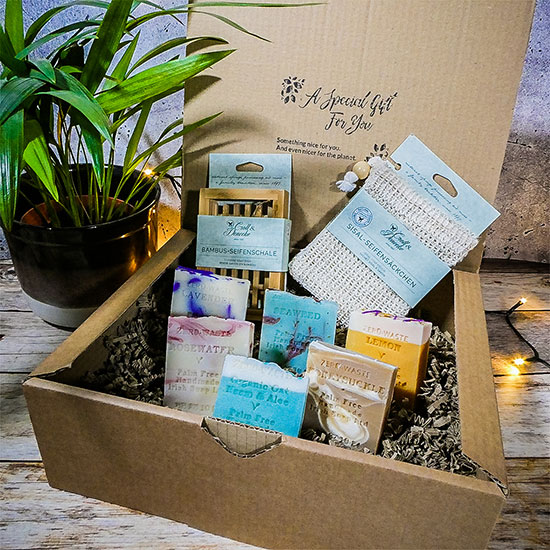 The Handmade Soap Co Candles
If you're looking for a powerful, yet delicate scent to gift to your mum on Mothers Day, consider The Handmade Soap Co candles. These highly scented candles are crafted with a special blend of Lavender Rosemary, Mint and Thyme, Lemon Grass and Cedarwood, and Grapefruit and May Chang. Each candle provides the perfect balance of clean burning wax, beautiful packaging and luxurious fragrances that will fill the room. Light one of these high quality soy blends in any room to create an atmosphere of relaxation. With The Handmade Soap Co candles, your mum can enjoy their unique scents in an instant.
Lavender, Rosemary, Mint and Thyme Fragrance
Consider gifting one of the most aromatic candles available! The Handmade Soap Co lavender, rosemary, mint and thyme scented candle is made with natural oils and hand-poured in small batches. The herbaceous mingling of lavender, rosemary and mint are imbued with therapeutic benefits that soothe the senses and calm any anxiety. With a burn time of 30 hours, this lovely candle will last long enough for you to savour it's sweet earthy delight for days!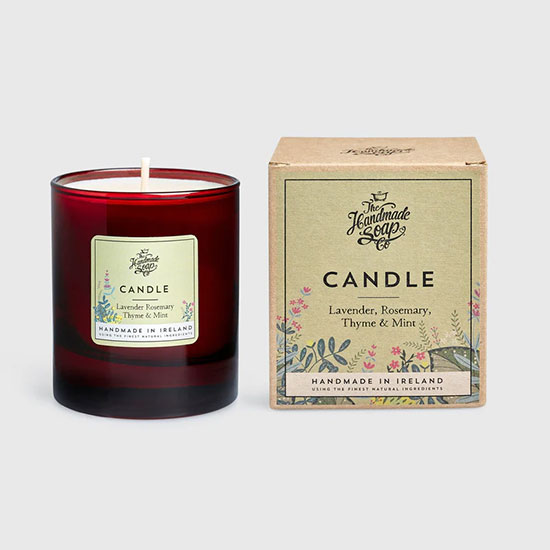 Lemongrass and Cedarwood Fragrance
The Handmade Soap Co lemongrass and cedarwood candle is the perfect way to bring a delightful scent into your home! This candle has a fresh, lemony scent combined with warm woody notes. Not only does it smell great, but this natural wax blend provides an eco-friendly alternative to other candles in the market. No synthetic fragrances are added, making it ideal for anyone with sensitivities or allergies. Light the lemongrass and cedarwood candle to enjoy its amazing aroma and know that you're making an environmentally conscious choice!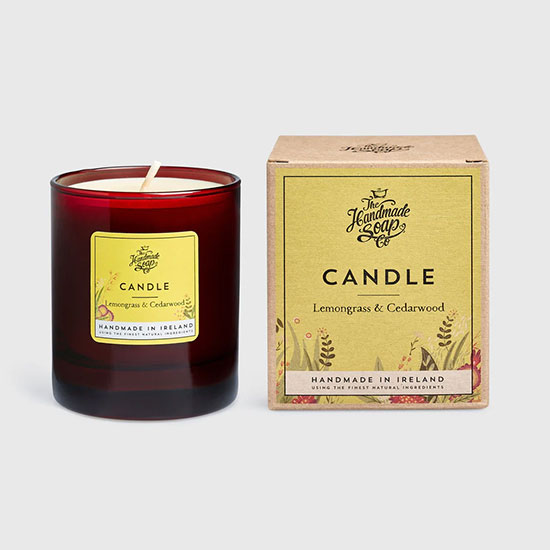 Grapefruit and May Chang
Discover the zesty aroma of grapefruit and may chang with the Handmade Soap Co grapefruit and may chang candle. Perfect for filling your home with freshness, this uplifting scent infuses grapefruit and may chang essential oils to create a sweet citrus vibe. Not only does it provide a delightful atmosphere, this Handmade Soap Co candle is made from clean burning ingredients designed to give you a pure, natural scent. Treat your mum to a grapefruit and may chang candle, the perfect accompaniment to create a relaxing ambience on Mother's Day!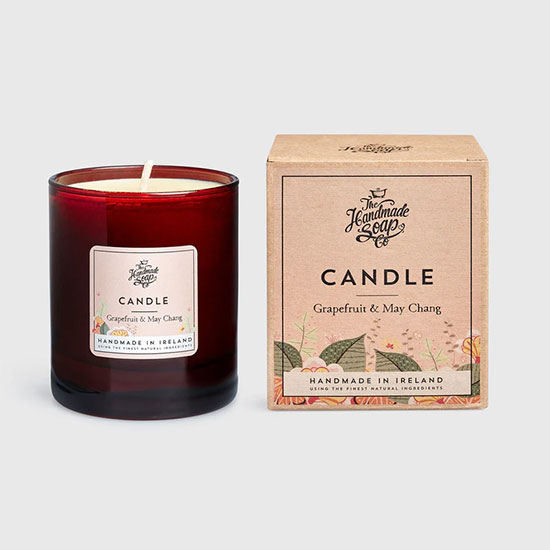 Klean Kanteen Rise Collection Drinkware
Klean Kanteen's Rise Collection drinkware is a perfect Mother's Day gift. Crafted with 90% recycled stainless steel, these distinguished drinking vessels keep drinks at their perfect temperature for hours. Durable and long-lasting materials ensure Klean Kanteen's are up for whatever tasks come next. Klean Kanteen's come in a variety of modern colours and finishes to match any aesthetic preference so you'll never sacrifice your style. With Klean Kanteen's Rise Collection, you can confidently pour in whatever drink your heart desires - it will always stay perfectly insulated and taste the same no matter how long it's been sitting out!
Klean Kanteen's Rise Insulated low ball tumbler
Klean Kanteen's Rise Insulated low ball tumbler is the perfect companion for hot or cold drinks while on the go. This double-wall vacuum insulated stainless steel cup will keep your liquids warm in cold weather and cool in warm weather, helping you stay refreshed throughout the day. The Rise tumbler also has a wide mouth for easy sipping, a slender shape for an easy grip, and it comes with an insulated lid to preserve temperature. Whether you need to take your coffee or tea to work, or just want an instant refreshing drink on a hot summer day (hopefully soon) , this Rise Insulated low ball tumbler from Klean Kanteen will be a great eco friendly Mothers Day gift.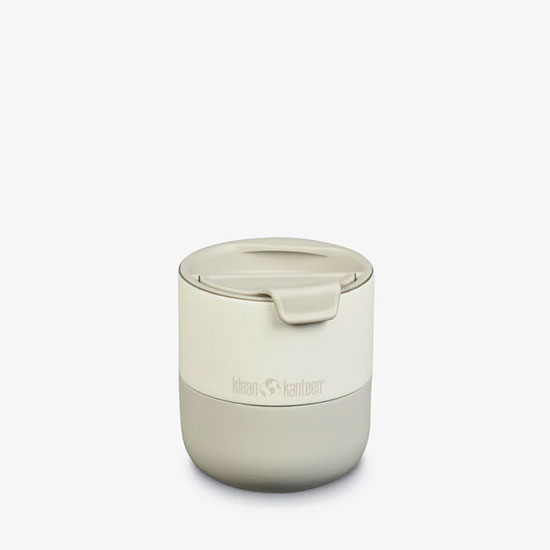 Klean Kanteen Rise Insulated Mug with Flip Lid
If you're looking for an insulated mug that can handle all the hot and cold drinks life throws at it, look no further than the Klean Kanteen Rise Insulated Mug with Flip Lid. This trusty best friend is designed to keep your beverages piping hot or iced cold for hours on end. It's made out of double-walled stainless steel and has a vacuum insulation that promises maximum temperature retention. For added convenience, this mug also features a flip top lid for easy sipping without spilling any liquid. Whether its morning coffee or iced tea late in the afternoon, the Klean Kanteen Rise Insulated Mug with Flip Lid is here to help you stay hydrated and energised all day long.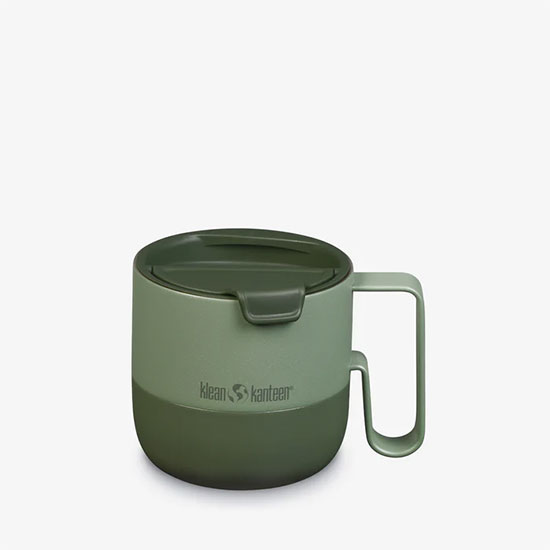 Klean Kanteen Rise Insulated Tumbler with Flip Lid
Struggling to enjoy a hot drink on-the-go? The Rise Insulated Tumbler with Flip Lid 16oz from Klean Kanteen can be the solution to your problem. This reusable, popular tumbler is made from pure 18/8 stainless steel, and its double wall vacuum insulation technology enables you to keep your drinks hot for 6 hours or cold up to 24. It's also made with BPA free materials - so it's safe and reliable to use. Plus, its leakproof lid comes with an easy flap opening that's just the right size for sipping or chugging. And since it's rust-resistant and reduced condensation, you don't have to worry about enjoying it anywhere anytime! What are you waiting for? Rise up and get your Mom this insulated tumbler today!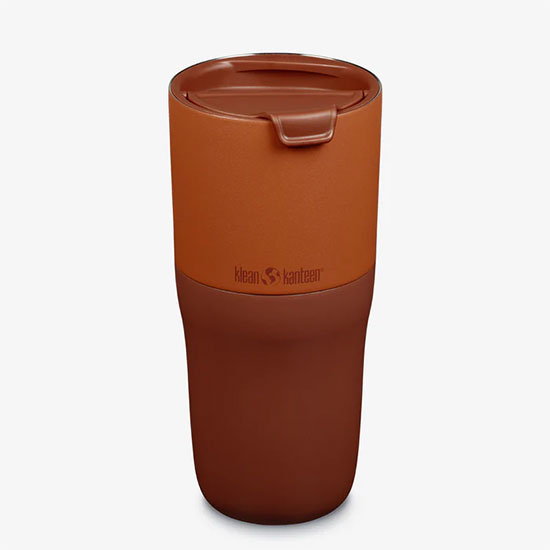 Klean Kanteen Rise Insulated Wine Tumblers
Are you looking for a perfect eco friendly Mothers Day gift for a wine lover? Look no further than Klean Kanteen Rise Insulated Wine Tumblers! Enjoy your white or rosé wine cold and crisp on hot days and keep your red wine warm during winter evenings. Stylishly designed, these Rise Insulated Wine Tumblers are made from 90% recycled stainless steel with double-wall vacuum insulation; meaning your drinks can stay hot or cold for hours.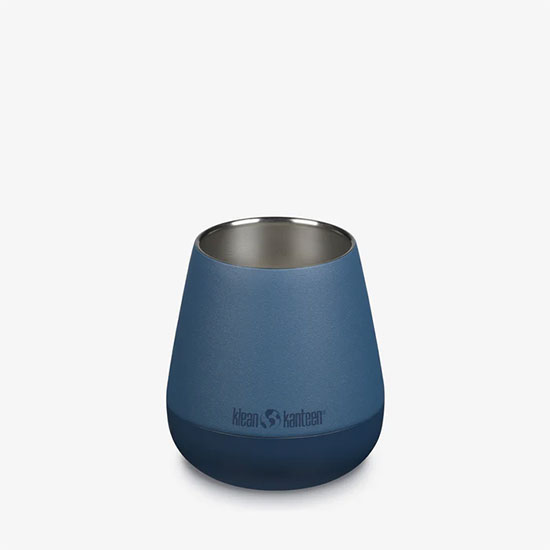 Trilogy Skincare
Trilogy Skincare is here to help you protect and nurture your skin. Trilogy believes in natural, active ingredients that not only safeguard and nurture your skin, but also respect the planet. Their passion for pure plant power drives their commitment to use sustainably sourced natural actives, including rosehip oil, jojoba seed oil and aloe vera juices. Trilogy's products are free from synthetic fragrances and parabens, instead utilizing plant-derived essential oils and other botanical extracts. Whether you are looking for a moisturising night cream or hydrating serum, Trilogy's range of face care is designed to give your skin the nourishment it deserves. Start treating your skin today with Trilogy Skincare!
Trilogy All About Hydration Gift Set
Trilogy's hydration gift set is the perfect way to stay refreshed and replenished. This trilogy gift set comes with a wide range of all-natural products inspired by nature that deliver great results; from hydrating mist toner, rosehip oil antioxidant+ and vital moisturising cream, Trilogy has an amazing selection of ways to keep your skin healthy and hydrated. With its healthful ingredients, Trilogy will help bring serenity and balance to every day. All presented with a cotton drawstring bag.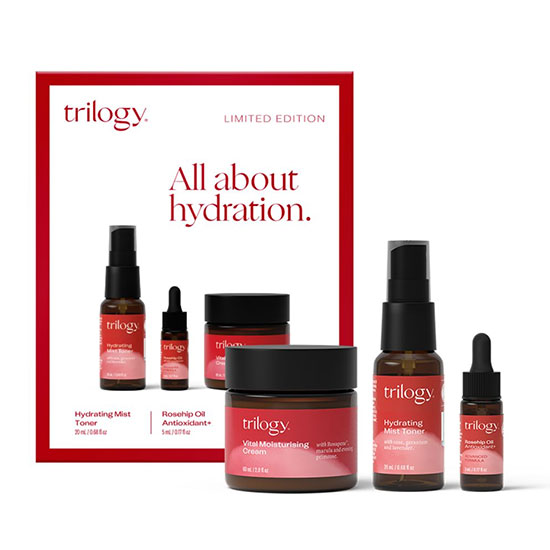 Trilogy Skincare Rosehip Oil
Trilogy Skincare Rosehip oil's natural organic skincare formula is formulated to nourish and hydrate any skin type! It works by helping to rebuild the skin's outer layer and boost moisture levels, allowing your face to feel softer and your complexion look brighter. As antioxidants and essential fatty acids soothe dryness, this blend of botanic oils gives your skin excellent protection against environmental damage. With an invigorating scent of rose petals, you will feel extra relaxed while pampering yourself with this natural skincare product. Whether you need an unequaled solution for restoring dryness or simply wish to maintain glowing skin, Trilogy Skincare Rosehip oil promises to deliver results that you/your mam are sure to love!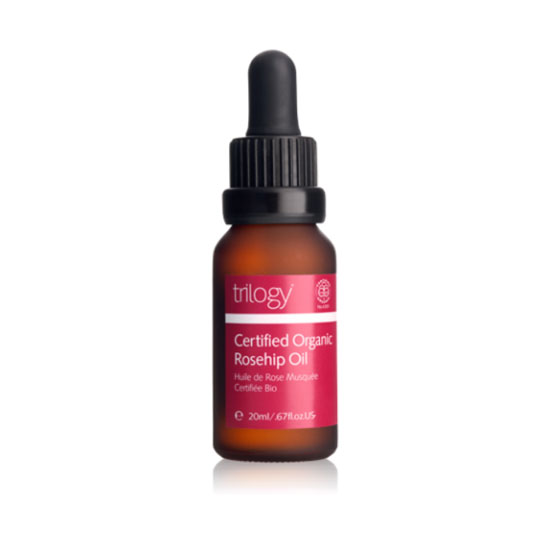 Tony's Chocolonely Ethical Chocolate
Tony's Chocolonely continues to pave the way for ethical chocolate production. Their commitment to traceability and ingredients, as well as their emphasis on supporting cocoa farmers, has made them a leader in sustainable chocolate production. When you buy Tony's Chocolonely, you will not only get a delicious treat - you can feel good about where it comes from and who is producing it. From vegan-friendly dark chocolate to muscovado caramelized hazelnuts, Tony's Chocolonely offers customers something truly original! They believe that business can be done differently; they take extra steps to ensure transparency and sustainability within their supply chain and provide a model of how ethical sourcing can create vibrant, equitable livelihoods for the cocoa farmers and all involved. As they continue our work towards more ethically grounded economic systems, Tony's Chocolonely shows us the value of mindful consumerism.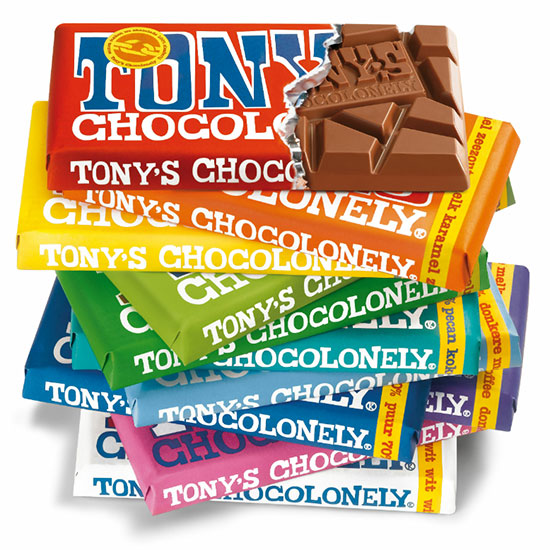 Thanks for reading and we hope you find something to inspire you. What do you think is the best eco friendly gift you could give to your mother?